Posted on
By Daniel Larocque
Here are the scent control techniques that I have used successfully for several years. Happy reading and happy hunting!
And yes! Again the famous odors. If I come back to the charge, it is because there are several among you who do not realize how much you smell too good. 
To your nose or that of your better half, maybe the smell of scented laundry soaps is pleasant, but I guarantee you that it is the opposite effect for big game animals. You smell! 
It is unimaginable how many customers who come to our store to pick up some last products or their hunting license, dressed in their camouflage coats that reeks of perfumes. There are even occasions when we open the doors of the store to ventilate because sometimes it is even suffocating. And this is not an exaggeration.
Don't console yourself by thinking that you are going to wash your clothes with products that destroy odors and that you will be done. You have a way to go as clothes washed for long periods of time in scented soaps are impregnated including your washer and dryer. It doesn't end there ....... your infected clothes spread the scent on your vehicle seat, seatbelt, your trouser belt, laundry bag, etc ... 
It is impossible to purify your clothes if the person doing the washing refuses to follow the instructions. Anything is possible if you start now.
First stage. 
Eliminate all scented products indefinitely. Or ... buy a washer dedicated to hunting clothes and dry your clothes outside.
Second step.
Replace scented products with odorless substitutes you can find in grocery and drug stores.
The odorless products above are the ones we use as an everyday recipe. These are not soaps that destroy the odor but that do not leave any scent residue.
Odorless shampoos are harder to find so I use the one from Scent Killer .
If you are making the transition immediately, by the end of the summer your washer, dryer, clothes, towels, and washcloths should be cleansed of fragrant odors.
When the time comes to wash your hunting clothes with odor-destroying products, you can finally say that your clothes are completely odorless. Below are the Scent Killer products that I have always used and proven effective. However, if your merchant has other types of products, they should accomplish the task. Make sure they are odor-destroying products.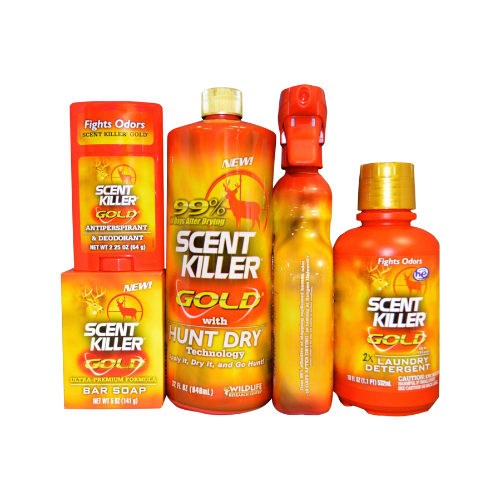 My hunting partners find me VERY demanding and even rigid for my standards to be completely odorless to hunt with me. Even my clients whom I guide are well warned because if they stink, their chance for success is weakened and my success rate as a guide too.
Think about everything in your hunting inventory that cannot be washed and spray each item with a product that destroys odors.
If you succeed in purifying your life in the world of scented products, you will quickly see how your own sense of smell will develop. Ask a former smoker how he finds the smell of someone who smells of cigarettes. 
I guarantee you will smell those who smell the scented soap more than 50 feet if the wind blows in your direction. Imagine big game animals! 
Have great laundry days and good luck.